Riding Day #24: Wednesday, December 7 Presidio, TX to Redford, TX Miles: 25 Flats: 0
Before heading out of Presidio, Eric and I biked over to Ojinaga one last time to get some groceries (divine bread from La Francesa and fresh, local cheese) and because we enjoy crossing through the ports of entry on our bicycles though we inevitably do it wrong and get yelled at (sometimes bicycles enter with car traffic, sometimes with pedestrians, it is never posted and when we can't read their minds we get scolded). After that jaunt (mileage of which is included above), we dropped by the Consulate to say our goodbyes and express our gratitude and then we hit the road.
Heading out of Presidio our plan was to stop in Redford for a couple of hours and meet with a border historian we had previously contacted and continue on our way, likely camping in the Big Bend Ranch State Park just before the sun went down. Not all went as planned.
Redford is only about 19 miles southeast of Presidio and it is home to about 100 people, most of whom have cattle ranches or herd goats or sheep. It was a teeny town and we only planned to spend 2 hours there, but we ended up spending 2 nights.
The reason for our extended stay was the gracious hospitality of border historian Enrique Madrid and his wife Ruby. We had been encouraged by several people since Marfa that we should look Enrique up, and we are really glad we did. We agreed to meet at his house around 2pm to chat and when we got there Eric and I had not eaten lunch, so we offered our fresh bread and cheese to Ruby and Enrique and all of the sudden, instead of talking about local history, I was at their kitchen stove learning
the secret
to making authentic tasting refried beans to make molletes (toasted bread topped with refried beans and cheese). It soon became apparent that this was not going to be a short visit, as Enrique kept saying things like "next we will teach you to make tortillas" and "if you stick around, we will teach you to make authentic enchiladas." We came to Redford thinking we would learn about the history of the area, but who can complain about free Mexican cooking lessons!
Ruby and Enrique's house was freezing inside, so we sat in the sun and ate the delicious molletes, and we began to realize the depth of Enrique's knowledge of archaeology, Redford, Jumano Indians, religion and spirituality and more. Enrique and Ruby met in college in Austin, where he studied archaeology and she anthropology and after which they moved to Redford, where Enrique's family has lived for generations. They were very open about their intentional decision to not have children, as each child born in the United States has the
environmental impact of at least 20 children born in some developing countries
(food for thought!). In 1968, Enrique became one of the five conscientious objector in Texas during the Vietnam war and the government attempted to try him for failure to submit to the draft, but the case was dismissed because he had been denied due process by the Selective Service Board.
We had scarcely finished our snack when some old friends of Ruby and Enrique's pulled in. They had driven down from Dallas to deliver a Christmas package to their old friends and to bring them out to dinner. I was surprised that Enrique would be willing to host us when he knew his friends were coming in from out of town, but that just made us more grateful to be there. Next thing we knew we were headed back to Presidio in the friends' van as they promised to buy us dinner as well! After dinner, the visiting friends went back to their motel and Ruby made Eric and I cappuccinos and Enrique told us all the guests they have had whom they have served cappuccinos (including some folks from the CIA). Health wise, I had not been feeling 100% and was delighted when they invited us to stay in an apartment behind their house that they usually rent out. We spent two nights there and we learned a lot from Ruby and Enrique--both about Redford, Mexican cuisine and a myriad of other topics.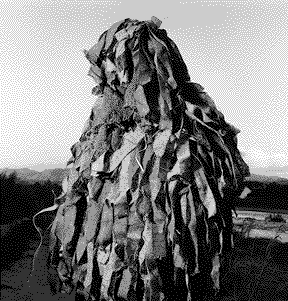 James H. Evans photo of a ghillie suit
One really interesting thing we learned about Redford is that in 1997 U.S. Marines were secretly deployed there and they ended up killing a U.S. citizen. For some unknown reason the government determined that 75% of Redford's population was involved in narco-trafficking, although that would mean that every adult in Redford was involved (Eric and I were on the lookout for the narco-mansions the whole time we were there--we didn't find any). The Marines were deployed without the knowledge of the Redford inhabitants and there they hid in ghillie suits to spy on the people. On May 17, 1997, 18-year-old Esequiel Hernandez was herding his goats by the river, carrying a .22 rifle to ward off dogs. The hidden Marines somehow mistook him for a threat and shot and killed him. The Marines say that he fired at them first, but there was no evidence that Esequiel had fired his weapon and he was shot by the Marines in the back. This killing came as a total shock to Redford residents and Enrique traveled to Washington to protest the presence of the Marines using the James H. Evans photograph to the right. There is a PBS Documentary which includes interviews with 3 of the 4 deployed marines (the man who shot Esequiel declined to be interviewed)
"The Ballad of Esequiel Hernandez"
--I have not seen it, but hope to soon.
Here
is a great article about Esequiel and our ineffective border policies.
The site of Esequiel's murder by U.S. Marines--
his families house is in the distance

Enrique showed us the sights of Redford which included the place where Esequiel was shot, which is in view of his family's house, and where he is now buried.
Across the river from Redford is a little Mexican community, mostly of people who own livestock. It is one of several small villages across the river that were all accostumed to crossing the river as necessary. With the heightened security after September 11, the Redford crossing which had been used for 100+ years was shut down, forcing people to cross in Presidio/Ojinaga, if they have the papers to do so.
Redford in the foreground and a real cowboy bringing his cows for a drink
Enrique and Ruby told us of the conservation efforts in Big Bend Ranch State Park which basically border their property. Apparently years ago, some donkeys became feral and now, as a non-native species, they are destroying the natural habitat. Several humane eradication tactics have been tried, unsuccessfully, so now people are just killing the donkeys. In addition to that, an invasive insect has been introduced to kill salt cedar trees, which are about the only tall trees in the area, but they are also nonnative. These killing conservation efforts have been difficult for those in the area to understand, but the efforts of the State Park conservation teams to want to return the land to its natural state are valid. However, it is interesting that the conservation effort is only happening on State Park land, because for most of our bicycle trip we have traveled through desert area and almost ALL of that huge expanse of land is leased out to cattle ranchers and the cattle are slowly (or quickly?) destroying the desert. What did my dad tell me when he visited El Paso the first time? That ranches in the area allot each cow like 100 acres to graze, where in more humid areas of the country, the ratio is more like one acre for each cow. Shouldn't there be more conservation across the board? (there are too many variables to say this for certain and I just read a million cow acreage websites and there are really no definite answers, but I know it is drastically different in different climates). The desert is a really fragile landscape and while I applaud these efforts, I wish it wasn't only limited to the park land.
The Madrids also told us of the Lady in Blue, a Catholic nun who visited the area up to 500 times in the early 1600s. There are several accounts of her visits from Jumano Indians, but Mother Maria de Jesus de Agreda was actually cloistered in Spain and visited via a deep trance where in she recalls speaking with the Native Americans and feeling the climate difference of the area. When missionaries later came to the area to attempt to convert the Jumano Indians, the Native Americans told the priests they were ready for conversion and had been told by the "lady in blue" that the missionaries would soon be in the area to guide them. Many people, inlcuding Ruby and Enrique, are now trying to get Maria de Jesus de Agreda cannonized. More info on the lady in blue
here
.
Eric, making flour tortillas
And of course, the cooking lessons! Ruby and Enrique have spoken with hundreds of Mexican people (mostly women) in an effort to retain traditional ways of cooking Mexican cuisine. Ruby and Enrique often give cooking classes in the area and for many years taught all the Minnesota folks from Outward Bound some basic techniques. We learned the secret to making perfectly round flour torillas and it can be summed up in the following simple mathematical equation that Enrique has discovered after more than 15 years of research:
Enrique at a recent event in Marfa teaching the mathematical equation of perfectly round tortillas. Via here.
Got it? We also learned to make authentic chile colorado which we used to make amazing chilaquiles. We always thought chilaquiles were invented to use up stale tortillas, but for these chilaquiles we first made fresh corn tortillas by hand! AMAZING.
Enrique, making chilaquiles
Our visit with Ruby and Enrique was both delicious and informative. We are so fortunate to have been able to change our plans and spend two wonderful days with these two folks and learn so much from them. I would recommend ANYONE who travels through Redford to stop and visit them--they live right across from the old Redford elementary school. Go. And bring them chocolate.